About me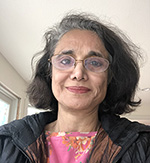 I am a consultant in comm systems. I worked for last 20 years at
Loral Space Systems In Palo Alto, CA, where I had a Distinguished Engineer position. I was involved in all sorts of communication system designs. My work involved simulation of signal quality through the satellite links. I used SPW by Synopsys for most of my work but also Matlab.
Before Loral, I worked at Booz, Allen Hamilton, Aerospace Corporation and Northrup, in Los Angeles. I have a MSEE from USC.
I write these tutorials for fun and for love for my field. It is forever challenging and fascinating. I am currently writing a book on link budgets and, hence have not been able to add any new tutorials.
I will be giving a talk in Ukraine on May 16th on the use of Matlab for spectral estimation.
I was born in India, came to US with my parents while young and went to school in California. I am also the author of children books, "The Reading Lesson" and "The Verbal Math Lesson". These are wonderful books, if you have young children, please check them out.

I am married, live in Danville, CA, and have two grown children. One works at Apple Computer and the other runs a Publishing company. Over my 45 year career in engineering, I have given many talks to school and college groups on topics related to electrical engineering as well, as women in engineering. I have had a wonderful, rewarding career and if you would like me to talk about any of these topics, I am happy to do so.
If you have questions/comments on digital communications or signal processing, please post them on the relevant topic page.
Charan Langton
Facebook page:
https://www.facebook.com/Complex2Real-125434834208067/?ref=settings
LinkedIn page:
https://www.linkedin.com/in/charan-langton-5b805413/